We need PPE!
Our news
August 16, 2020 | Alison Eastwood
The Hope Revolution is a fantastic and rewarding way to support local charities from the comfort of your own home. You can buy items we need online and they get delivered straight to us! We need PPE to continue supporting some of the most vulnerable people in our communities as well as items for our service users to make their lives a little bit easier in very difficult times.
If you could do anything to help click HERE to visit The Bond Board's online Hope Revolution Shop. Thank you!
Click HERE to read an interview with Clare, our Housing First Team Leader talking about how we've adapted to working during #covid19 and the help we need from the community to keep delivering services safely.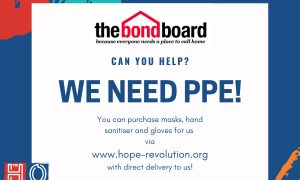 A big thank you to The Hope Revolution for supporting The Bond Board and helping to spread awareness of the items we need and the difference we make.
You may also be interested in…