Moving in checklist
Moving into a new home is a big change and there are always lots of things to do. It can be really stressful and you may have to pay for some things you weren't expecting. If you're feeling overwhelmed or don't know what to do, see our handy checklist of things to do when you move home below.
'My support worker has just been like my saviour really. She helps me with everything. She got me this place and helped me sort all my bills out. It's given me a new lease of life cos I wouldn't be here and in this place without The Bond Board. I've got my own life back.
GET SUPPORT
If you're a private rented tenant in Rochdale or Bolton, we can help you with lots of things, including:
Getting your rent sorted, including applying for help with rent via Universal Credit or Housing Benefit.
Setting up and managing your utility bills and Council Tax.
Getting furniture and other household essentials.
Help with budgeting and managing your money.
Help to apply for benefits and dealing with problems such as sanctions, overpayments and appeals.
Help to sort out problems with your landlord, including rent arrears and repair problems.
Read our top tips below about what to do when you first move into a new home and contact us HERE if you need some help.
Here are our top tips for things to do when moving into a new home.
How The Bond Board supported Kathryn
QUID'S IN COFFEE MORNINGS-ROCHDALE
Come along to our free 'Quid's In' coffee mornings every fortnight in Rochdale town centre. Get help with looking for a home or any problems with your private rented tenancy and have a free brew (or two!) with us.
Our coffee mornings are free, friendly and informal. Even if you don't need advice, you can still come along if you just fancy a chat.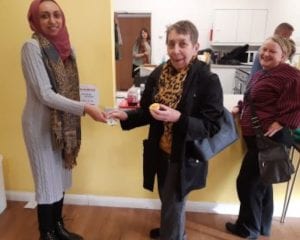 CONTACT US
Don't struggle on your own. If you're renting privately in Rochdale or Bolton and need support, contact us.