Volunteers - We need you!
Do something amazing today
Do you want to meet new people, be part of a great team, learn new skills and help your local community? Then do something amazing today. Join our team as a volunteer and make a difference to homelessness in our area. Whether you have a few hours to spare or more, we have a variety of roles available, no experience is necessary and full training and support is provided.
Having the chance to volunteer at The Bond Board was fantastic. I worked alongside some of the most friendly and supportive staff who encouraged me to take on new roles and responsibilities. It gave me confidence in my own abilities and enabled me to pursue a job in the admin environment.
Volunteering at The Bond Board offers many opportunities, including;
A worthwhile and rewarding role
An opportunity to make a difference to homeless or vulnerable people
A chance to feel valued and appreciated
Useful experience towards further education and job opportunities
Increased confidence and people skills
Meeting new people
Giving something back if you've been helped in a similar situation
Volunteer roles available include;
• Assisting at our fortnightly Quid's In Coffee morning
• Receptionist
• Administration
• Assisting with our weekly refugee drop-in
• Interpreter
• Marketing and social media
• Fundraising
• Providing support at Bond Board group sessions and events
Roles are not fixed and we will discuss your interests to make sure you get the volunteering experience that's right for both you and The Bond Board.
Thank you
The Homelessness Network Project is delivered in partnership by The Sanctuary Trust, The Bond Board, Angie's Angels, The Soup kitchen and several other local charities and is supported by Rochdale Council. This service is for people who would normally access the local soup kitchens and/or homelessness related services for food, but are unable to do this at the moment because of Covid19
We want to say a big THANK YOU to all the people and businesses that have donated food and the wonderful volunteers who are making this possible.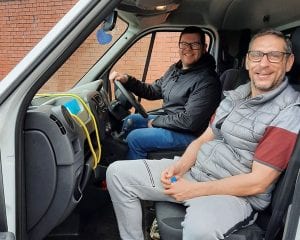 From My Place to Yours
A simple act of generosity from Cathy and help from two willing volunteers, David and Kevin led to a brighter new beginning for one of our homeless service users.